Siljansfors Forestry Museum
Welcome to the forestry museum at Siljansfors. Situated in a beautiful and mountainous wooded landscape the museum offers a telling tribute to one of Swedens most important industries, förestry. Visitors can follow the developement of workers living and working conditions over the last century as technologies and demands changed. The museum combines open-air areas of authentic living quarters and workplaces, with large exhibition halls displaying equipment och forestry practices. Visitors can enjoy a full meal or lighter refreshments at the museum cafeteria.
During the years 1738-1876 Siljansfors was a thriving ironworks, and indeed Moras first industrial developement. The remains of the works now provide a scenic and cultural backdrop to the forestry museum which has been established here. Visitors are met by a magnificent and well preserved stone blastfurnace, as well as the remains of a bessemer works and cooling canals from the period.
For those who would like to come in to the forest and learn more there are several different forestry trails beginning from and returning to the forestry museum. The trails are well marked and have informative signs placed at key locations. Some trails explore natural aspects and others cultural topics. One trail explores the forestry lifecycle from planting, through cutting to harvesting. For younger children there is a special nature trail. Trails range from 1 to 5 km. Across the main road from the museum is an arboretum (tree park) on a site of 1,5 ha. There we have planted over 70 different tree species since 1994 and it makes an interesting part of a visit to Siljansfors.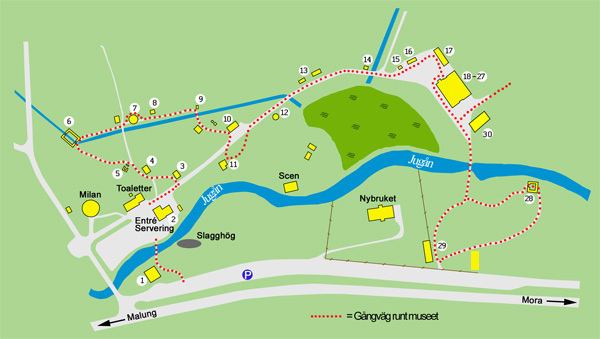 1.Blast-furnace.


The remains of Siljansfors former iron foundry,
opened in 1738 and closed in 1876.

2.The Slaghouse.


(Entrance & Cafeteria) Built from slag stone from the foundry, which has now been turned into a cafeteria.

3. Fire-house.


The hut has an earthern floor and a fire place in the middle as well as sleeping places for 8-l0 men. It was used by lumberjacks until 1923. They prepared their food on the open fire.

4. Stables.


Built for 6 horses

5. Sloped cabin and log fire.


Used by the log drivers when they floated logs down stream.
The log fire gives an even warmth for many hours.

6. Ruins of a Bessemer Iron works.


The works were built in 1861 for the manufacture of steel by the Bessemer method

7. Charcoal kiln.


A charcoal kiln can hold 50-150 m 3 of wood.

8. Charcoal burner´ s hut.


The hut has an earthen floor, two camp-beds, a table and a fire-place

9. Rest cabin from the 1940´s


The cabin is transportable on rails and can be warmed by a portable wood stove.
(Most of the forestry work was done in the winter)

10. Forest Lodge from the 1940´s.


Built for 8 men and a housekeeper. It has a separate drying-room for
the harnesses and clothes, a toilet and stables with room for two horses,
together with a feeding shed.

11. Forest rangers hut.


Usually provided by landowners for the lodging of their rangers.
The huts fell out of use as it became more practical to travel the forests by car11

12. Tar-valley.


This place is used for the extraction of wood- tar.

13. Forest Lodge from the 1950´ s .


The cabin is for 4 men and there is a stable with a place for hay.

14. Rest house on wheels.


From the 1960´s. It is warmed up with an oil fire.

15. Rest house on wheels.


From the 1970´ s.

16. Depot wagon from the 1970´s.


Combined with rest cabin.
Built specially for the " Logma" machine system

17. The de-branching machine

" Logma". Made in 1967 and in use up until 1971

Exhibits 18-27 are in the museum halls

18. Forest mensuration

19. Wood measurement.

20. Logging tools

21. Off-road transport

22. Fall-site burning

23. Soil preparation.

24. Sowing and planting.

25.Pre-commercial thinning.

26. A forestry office from the 1920´s.

27. Floating.

28. Remains of Ironworks forge.


This is the blowing machine house which was a part of the forge.

29. Museum hall.


Here you can see the 7 000 year old pine from Vinäs.